Church and Steeple repair can be daunting. Big, historic buildings face myriad problems that can be difficult to comprehend and prioritize. PTF has lifted entire churches on steel and rebuilt the undercarriage. We have threaded a 20′ bed timber through a 18″ x 18″ hole for an in situ repair, and removed entire clock towers to the ground. In every case, we collaborate with the building committee to break the project into phases that will achieve preservation. Many of these buildings have stood for 200 years, we expect our repairs to last 200 more. Read a selection of projects below, or read our blog posts that feature church and steeple work.
*Indicates properties listed on the National Register
WEST AUBURN CONGREGATIONAL CHURCH, West Auburn, ME     2016-2017
Performed full assessment for congregation's efforts to obtain grant funds. Multi-phased project including repairs to the steeple and its foundation, framing repairs. Phase One expected to begin in the Fall of 2016.
*NORTHWOOD CONGREGATIONAL CHURCH, Northwood, NH     2015-2016
Extensive restorations to the NCC in Northwood, NH. Significant project tasks include: foundation and structural repairs to the front entry undercarriage and column restoration, structural repairs to the tower box, exterior tower and balustrade restorations, replacement of Parish Hall sills and repairs to foundation, installation and enhancements to drainage.
*FIRST PARISH CONGREGATIONAL CHURCH, East Derry, NH     2015-Ongoing
Multi-phased capital campaign project to restore the building for its 300th Anniversary in 2019. In 2015, PTF removed the steeple structure to ground for extensive documentation and restorations at a later date. In 2016, our work continues with the lifting of the building for a new foundation and undercarriage repairs and a new elevator connector will be constructed for full accessibility. In 2017, we will be retained to repair the tower base, wall framing, and roof structure and, in the Fall, the restored steeple will be reinstalled.
FIRST CHURCH WENHAM, Wenham, MA     2015
Complicated installation of new structural bed timbers in church tower to correct significant deflection. Through careful planning and coordination with an engineer, approximately 6" of deflection was relieved. Project also involved restorations to clock face, painting of steeple, new step flashing, and will continue in 2016 with a new roof.
*TROY UNION CHURCH, Troy, ME     2015 – Ongoing
A multiyear, multiphase restoration campaign including creation and installation of a new king post truss and tower components, realignment of other existing trusses, exterior and exterior repairs to belfry, sanctuary, ceilings, and balcony. Troy Union, with the assistance of PTF, has applied for funding to assist with the costs of these extensive restorations.
UNITARIAN UNIVERSALIST CHURCH, Castine, ME     2012-2013
Repair and replacement of belfry bed timbers.
THE NEWCASTLE CONGREGATIONAL CHURCH, Newcastle, NH     2009-2013
Structural repairs to historic church including sill repairs and the structural reinforcement of the pulpit wall along the back gable end of the sanctuary.  Work includes the complete restoration of the shutters, and original bell tower dome that was removed to the ground and abandoned by a cell phone company.  The restored dome was re-purposed as a gazebo on the ground level.
*READFIELD UNION MEETING HOUSE, Readfield, ME     2012-2013
Assessment, modeling and structural stabilization of clock tower, belfry and dome, including the removal and storage of dome, until further repairs can be made.  The sanctuary of the brick meetinghouse, built in 1827, includes some of the most impressive trompe l'oeil painting in New England.  The board is currently raising much-needed funds to restore the steeple and murals to their former glory.  Please visit their website for more information, or check out our photos.
ST. PETER'S BY THE SEA, Cape Neddick, ME     2012-2013
Interior stabilization of roof purlins.  Extensive masonry repair
FIRST PARISH FEDERATED CHURCH, South Berwick, ME     2011-12
Exterior painting, trim repair, portico restoration.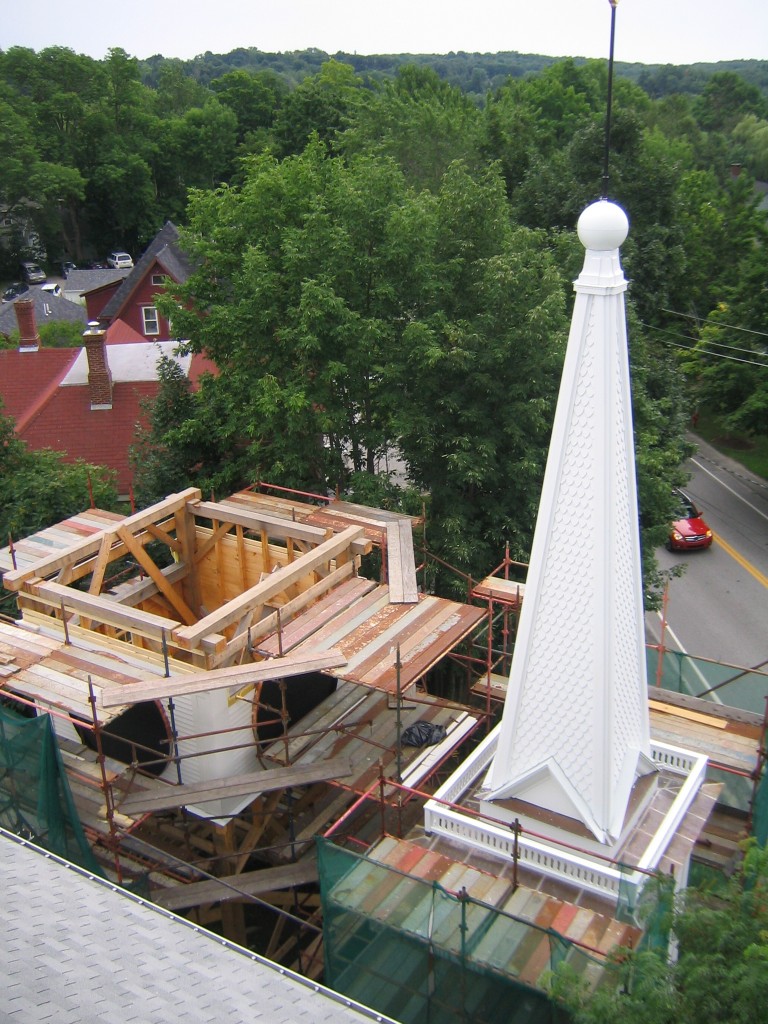 *DAMARISCOTTA BAPTIST CHURCH, Damariscotta, Maine     2008-10
Since 1846, this steeple has served as a beacon for seamen and travelers along the Maine coastline.  It suffered a fire, probably from lightning damage, in the early 1900s, and suffered from additional water damage in the intervening years.  In 2007, the steeple was removed and carefully tagged, documented and disassembled.  While approximately half of the trim could be repaired, the entire frame required replacement.
The new frame is a twin of the old, aside from adjustments in wood species (Eastern White Pine, or Southern Yellow, to Oak) and lumber dimensions (bed timbers, girts) required by structural carrying capacities.
The assembly of the belfry and spire frame were completed in late August 2009.  During that time, volunteers from the church and community double-primed and sorted each of the fishscale shingles that adorns the spire.  We repaired the pilasters and many of the capitals that decorate the belfry, and reproduced the corner boards, crown molding and about half of the corbels on the spire.  For more information on the repair and reproduction of the trim, see our blog.
We found extensive water damage in the clock tower frame.  None of the four posts could be saved, and two of the rear posts were dangerously rotten.  Behind the belfry, a new clock tower frame was erected in the side lawn of the church.
In August 2010, we removed the old clock tower and replaced it with the new clock tower and spire.  Our blog posts from that time documented the process, and the media attention it received.  Contact Shawn for more information.
ACWORTH MEETINGHOUSE, Acworth, New Hampshire     2008-2009
This double lantern steeple was built in 1821, by Elias Carter, from Asher Benjamin designs.  It features one of four bells attributed to Paul Revere.  The repairs ran from foundation to steeple and were performed by a committed crew of community craftspeople.  Preservation Timber Framing supervised and planned the complete restoration of  the double lantern dome with center mast, tower box frame and belfry.  White oak, pine and spruce timbers match original fabric.   PTF taught and worked closely with local craftspeople to successfully complete the restoration.  Please contact Arron Sturgis for more information.
KENNEBUNPORT BAPTIST CHURCH, Kennebunkport, ME         2009-10
Full assessment of historic church with removed belfry frame and dome.
Work to begin on its full restoration in 2010.
FIRST PARISH CHURCH, York, Maine     2009-2011
Structural repair of original belfry and queen post truss roof system.  Supervision of roofing crew and installation of critical flashing elements at junction of steeple and sanctuary roof.  Installation of accessible catwalk and lights within sanctuary roof attic space.  Repair of replacement window sash in sanctuary. Clock Tower and face restorations.  Interior and exterior painting.  Read our blog posts about this job.
FIRST UNIVERSALIST CHURCH, Yarmouth, Maine     2006-2008
This steeple, erected in 1860, has a simple, eight-sided spire and open belfry.  In 2006, we began the first of a four-phase project by removing the existing spire.
In 2007, phase II included the structural repair of the octagonal belfry.  Five of eight posts were replaced in kind with 40 foot long spruce timbers. The exterior trim on the belfry was repaired and or replaced in kind.
In 2008, we began repair of the spire.  It required complete redesign and replacement of its crab, the overlapping bed timbers at the top of the belfry that support the spire.  By repairing the rafter feet, we were able to restore much of the original spire frame.  This spire was unique, in that its rafters did not telescope deeply into the belfry, which would have provided extra stability, but compromised its airy, open plan.  Careful use of modern tension connectors allowed us to preserve the design, while allowing us to provide additional stability to the spire for many years to come.
First Congregational Church of Topsfield, Topsfield, MA     2007
Complete structural restoration of the spire, belfry and belfry box base; including the removal of the spire and belfry and their complete dismantling, repair and re-installation of in kind timber framed structures.  Steel patch work was removed.  All exterior trim was removed, stripped of paint and re-applied in original locations where possible.  Some in kind replacement of exterior trim elements were created to match original fabric.
*First Parish Church of Brunswick, Brunswick, ME     2003
Complete preservation of an historic timber frame bell tower, dated to 1846. Preservation included in kind reproduction of original top sixty feet.
*Pearl of Portsmouth, Portsmouth, New Hampshire     2003
Repaired timber frame belfry, built in 1858. Significance as church of first African American congregation in New Hampshire merited L-CHIP funding. Repair work utilized the original structure to fabricate in kind replacement and reproduction of original architectural elements.
Saint John's Church, Portsmouth New Hampshire     2001
Structural reinforcement of sanctuary balcony to allow for the installation of a new pipe organ.  Moved and reinstalled original box pews to allow room for the organ.  Created and installed a new choir loft riser system around perimeter of new organ.  Created and installed original and new matching trim elements in balcony wall to accept organ positive.
First Parish Church of Gorham, Gorham, Maine     2001
Structural repair and reinforcement of king post truss roof system. Work included in kind timber repair to 60′ truss chords and
reinforcement of tension joinery with steel straps.